Residents in Fort St. John joined thousands across Canada on Wednesday to walk in memory and raise awareness of murdered and missing indigenous women.

Connie Greyeyes was among several who showed up at Kin Park to show their support, and said she walks in memory of her cousin who was murdered in Edmonton in 1993.
"She was beaten and burned alive by a complete stranger, for no reason at all," Greyeyes said. "She just happened to be walking in the wrong spot at the wrong time."
Greyeyes has long been an human rights activist and advocate, part of the push for a national inquiry on missing and murdered women and receiving international recognition for her work, which prompted an Amnesty International study on violence against aboriginal women in northeast B.C.
Greyeyes says indigenous women are four to five times more likely to go missing or be murdered.
"That in of itself is a national tragedy," said Greyeyes.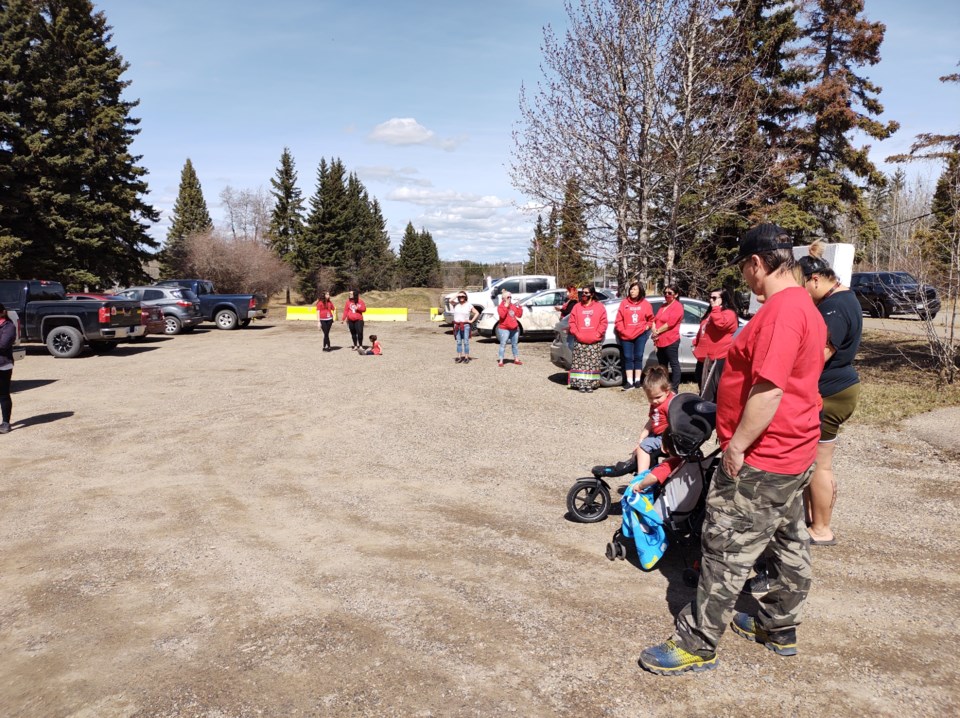 Residents met at Kin Park on Wednesday to raise awareness for missing and murdered indigenous women. By Tom Summer
Greyeyes currently works as the northern case manager for missing and murdered indigenous women and girls for the Indian Residential School Survivors Society, and believes she can make a real difference in her role

"It gives me the opportunity to give real services and support to family members," said Greyeyes.
Local author and fellow advocate Helen Knott joined Greyeyes on the walk. 
"Growing up in Fort St. John, there hasn't been a lot of visibility when it comes to violence experienced by indigenous women," said Knott. "I feel that's something we've been struggling for. Over the years, we're slowly getting there, but there's still a lot of work to be done."
The City of Fort St John proclaimed May 5 as the National Day of Remembrance for Murdered and Missing Indigenous Women, Girls and Two-spirit People. A red dress is on display in the city hall lobby until May 12 as part of the proclamation. 
Residents are encouraged to dress in red and take their own walks, and can tag themselves online with the hashtags #bringthemhome and #MMIWG2S.